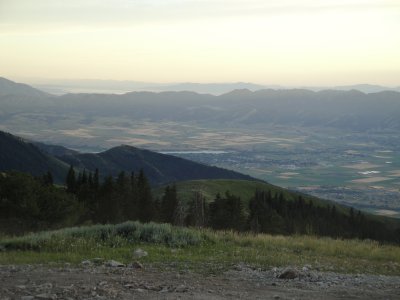 I have put together a video and a bunch of pictures for my mountain biking adventures during the last part of summer and through October. One of the rides has low quality pictures because of user error. I had accidentally set the camera to take low resolution pictures. Unfortunately the pictures were taken on a trail that was snowed in a week later and hence was not ridable. I had to go on the particular ride before the trails got snowed in for the season. The only thing is that the ride is fairly difficult to do. I can't forget the video that is included too. The video is about me doing the last trail in the, "Mountain Biking Cache Trails," book. I have ridden all of the trails plus the one trail that I rode in October which isn't included in the book. But it is all about the creation of the trip now. An interesting fact that I learned a couple months after the ride to Peter sinks is that the location has the coldest recorded temperature in Utah. I believe that it also has the coldest recorded temperature in the lower 48 states.
Here are the pictures that I promised.
Widget "About Author" is hidden because there is no defined widget param "user_field".

This entry was posted by
Brian
and filed under
Cycling
.
No feedback yet