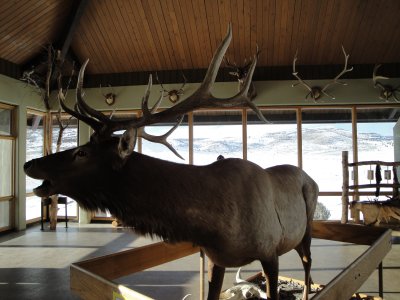 Back on January 30, 2010 me and Michelle went up to the Hardware Ranch and enjoyed ourselves up there. It was foggy and polluted in the valley because of the inversion that sets in during the winter months in Cache valley. It was sunny, beautiful, and warmer. There were also a lot of elk at the ranch. The Hardware Ranch feed the elk so that they won't go into the valley and dammage the agriculture by eating the hay that is supposed to be for the cows. The ranch was purchased in 1945 by the state.
Just for you I recorded a video of the trip so that you can see just what sort of elk the mountains have in them. The tour guide is quite helpful in educating about the elk and what is done. Also not all of the elk in the region have come into the ranch at this point. There was a really bad snow pack and so the sleds that would have runners on them had tires instead. The elk moved back into the hills by the end of February because the snow had melted off the south side of the hills and elk are solitary animals.
Widget "About Author" is hidden because there is no defined widget param "user_field".

This entry was posted by
Brian
and filed under
General
.
No feedback yet