Well I went on a bike ride up to the old Jardine Juniper tree in Logan canyon. Well I should say that I really more or less sort of raced up to the tree. The trip up took me 55 minutes and I took the scenic route on top. I then took a bunch of pictures which I'll be putting up on this site once I get the functionality added. So the ride down took me about 30 minutes. I could have come down faster except it was getting dark and that was slowing the decent down. Still the time it took to ride up and down was only 1 hour and 24 minutes. In the day light I can actually come down the trail in about 20 minutes simply because I can see the trail a whole lot better. Well until I get the pictures posted.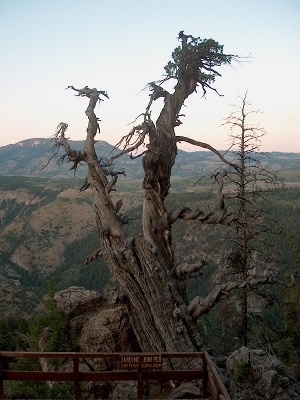 Jardine Juniper
This is the tree at the end of the trail. Being in the presence of the tree made me feel young. The question came to my mind of, "What would tthe tree say if it could speak?" I decided that it wouldn't say anything that hasn't already been said on how to live one's life. The tree is 3,200 years old according to the information board that they have up there. The tree is old enough to have seen wars, and civilizations come and go on this continent. It survived the three days of darkness too.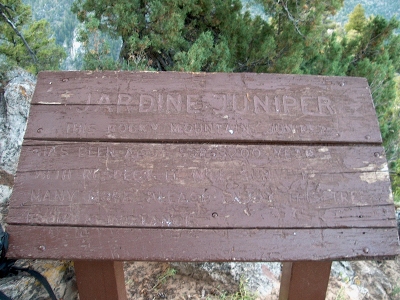 Information board
The board reads:
JARDINE JUNIPER
THIS ROCKY MOUNTAIN JUNIPER
HAS BEEN ALIVE FOR 3200 YEARS
WITH RESPECT IT WILL SURVIVE
MANY MORE. PLEASE ENJOY THIS TREE
FROM A DISTANCE.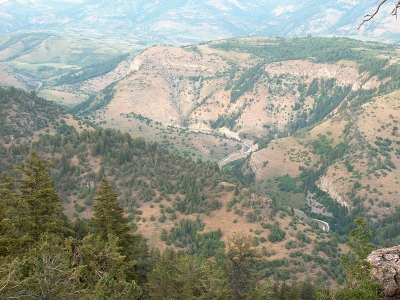 Logan Canyon
I thought I would take a picture of Logan Canyon. I would suggest not to walk straight down the mountain from the tree as the slope is very steep and I'm sure there are a few cliffs below. I don't want to have to call search and rescue.
Widget "About Author" is hidden because there is no defined widget param "user_field".

This entry was posted by
Brian
and filed under
Cycling
.
No feedback yet