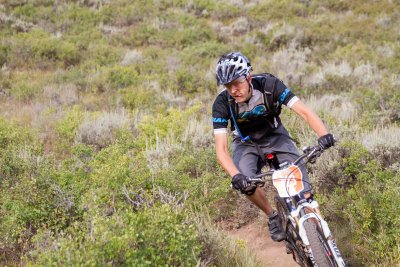 In 2014 I trained, and raced the Park City Point to Point race. The race was tough. Essentially the number of hours I put into training was rather staggering. There was nothing more than to complete the race. In a sense I have payed for the choice to train, and finish the race. Ever since the race and in the months leading up to the race I have dealt with left knee problems. Although I have done a lot of work to resolve the knee problem I have yet to be successful at total resolution.
Race day began with me eating nothing more than a bagel and 32 oz of milk. Not a great breakfast to start such a long day on the bike. I did try to get a better breakfast, but with me and my wife having a 10 day old baby did not help with the issue of finding food. We stopped at the gas station and got breakfast. Next time I do a big race like the Park City Point to Point I won't do that again. I know what breakfast does really good in keeping me going on long rides. I like to start out with a few strips of bacon, pancakes or waffles, orange juice, and milk, and some hash browns. I am able to go longer on my good breakfast without hunger or burning out. Finding the race start was also a little tricky in the dark. I now know where to go next time if I race.
The race started out in Round Valley and went around in a big circle essentially adding several thousand feet in an otherwise not a big climbing area. The exit from Round Valley came out where the race started. After round valley the race worked over to Deer Valley where the first long climbing would be done.
The first big climb through Deer Valley took me a couple of hours to complete. That is where the first support area was located. I stopped and got a quick snack before jumping back on the bike. I was really wishing I had a better breakfast at this point. The race kept climbing, and the clouds continued to move in and instead of warming up the weather got colder. Once I got done with the long big climb and right before the start of the enduro segment there was bacon! Bacon saved me! I ate a couple of slices of good greasy bacon. I started the enduro segment even though I really wasn't paying attention to the start. I was really wishing that I could pass more people on the downhill in the enduro segment. Some had difficulty navigating the trail technical obstacles. Eventually I dropped most of the elevation I had gained and I had to ride back up the mountain to Hidden Lake.
During the climb up to Hidden Lake the rain came in. The rain brought dark times because I did not have my jacket. The lake probably would have been much better looking if I hadn't been almost hypothermic at the time. I told myself that I just needed to survive till I got to the second feed zone. Then at the second feed zone I could make my decision if I would keep going. At the second feed zone I had food. Glorious food to reinvigorate me. I stayed at the third feed zone for a half an hour, and had good luck with the sun coming out and warming me up and making the day rather pleasant. I made the choice to continue. My knees at this point were bothering me.
The third segment for me began with a nice long climb which I figured that I would be the last person and not catch anyone. I was surprised when I passed two fellow racers. With me being stopped for a half an hour I was dropped about 7 positions. So I passed 2 racers and I was still thinking that I wouldn't pass anyone else. On the contrary when I passed the last support zone I caught up to two more racers. Now I was getting more excited! I caught up to another, and another racer. I was starving for downhill at this point. I was going as hard as I could to get to the finish line and get downhill! The longer I went without a good long downhill segment the more angry I was getting. Finally I got a good long downhill section and was just ripping the downhill as fast as I could, and then disappointment. I had to ride back uphill for an elevation gain of about 500 feet. I was very grumpy about that. I really just wanted to be done and was trying to complete by a certain time. My hopes were dashed. I got to the top of the last climb and I just let gravity let my bike rip down the last piece of trail for the day. I caught up to one last person at the very end and I was riding his wheel. I really just wanted to get to the finish line, and be done. He went around a turn, and I cut the turn to get in front and bam! I finished the race at last!
I spent time looking for Kristie, and Sage and then we got a bite to eat. In the end the race was closer to 76 miles, and closer to 12,500 feet of elevation gain rather than the advertised numbers. Tough is a great way to explain the race. Can I do it? Sure can! The race took me about 12 hours to finish. I could do the race again, but training for a race of this magnitude requires days of very long rides which becomes a part time job. In the past several months I have sort of had to refind my love for cycling.
Widget "About Author" is hidden because there is no defined widget param "user_field".
No feedback yet