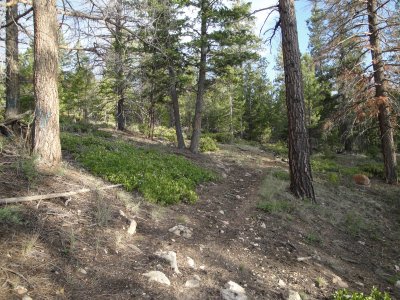 The Great Western Trail is supposed to be a trail that runs from Canada to Mexico through Montana, Idaho, Utah, and Arizona. I rode the a short section of the trail from Pine Lake near Tropic, UT to 10.6 miles north on the trail. The trail was not just a single track trail that was marked on the map but rather followed old roads and ATV trails that have been shutdown. Some of the trail was even on a cow path. Part of the trail took me a moment to find when I went through the gate in the picture. I though for a moment that I had lost the trail and that I would have to turn around earlier. Much of the trail is not really being used enough to keep it open and preventing over growth of the bushes on the trail. I was able to take a picture of an old homestead house towards the end of the trail trail that I rode on forest road 133.
The techinal aspect of the trail is that the majority of the ride was rated at a blue. There was one short section of trail that was steep and I had to walk the bike up which was also very difficult to ride down. The short section was rated as a triple black diamond. The other side of the hill that had to be walked up was difficult to ride up for only a short section but was doable. All other sections or which amounted to about 9 out of 10 miles being moderate but bumpy.
Widget "About Author" is hidden because there is no defined widget param "user_field".

This entry was posted by
Brian
and filed under
Announcements
.
No feedback yet