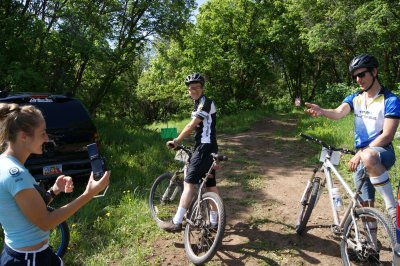 On June 18, 2010 Ian, Dayton, Louis, and me went and raced in the Wimmer's XC race. Dayton did quite well and placed third in the single speed sports category. Ian placed 12th place in the 19-29 sports category. I placed 11th in the 19-29 sports category. The difference between Ian and me was only thirty seconds. We all had a lot of fun riding the loop three times. The race took place in the Shirwood Hill's resort. My parents were there and so was Rachelle, and Megan to watch and cheer me on. My time was 1 hour and 29 minutes and about 40 seconds. When I rode the course by myself I was able to do it in 1 hour and 42 minutes and so I dropped my time by thirteen minutes which is quite a lot faster. I think that the ride could have been done faster except for my exercise induced asthma which gets triggered by sprinting and low humidity. However even at that I was told I did good. Regardless of the outcome of the race I just really enjoy riding my bicycle and going far into the mountains that would take many more hours walking.
Now it wouldn't be fair to not include pictures from the race.

This entry was posted on Jun 19 2011 at 21:57 by brian and is filed under Cycling.
No feedback yet