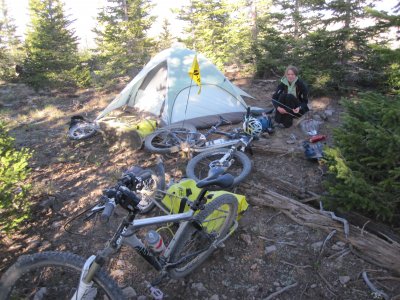 This year for the annual family vacation we returned to Pine Lake. Pine Lake is located about 15 miles north of Bryce Canyon. During that trip me and Kristie went on an bike camping trip. We loaded up our BOB trailers and rode to the top of the mountain. There we setup camp and roasted brats over the little single burner backpacking stove that we had bought. For Kristie the highlight of the vacation was going treking with the BOB trailers. We only camped overnight, but we had fun at the top of the Barney Top at around 10,500 feet. The trailers work great for pulling gear around the mountain. Just remember that the additional weight might slow down the climb.
Also as a family we went to Hell's Backbone which is a narrow bridge at the top of two deep canyons. The cliffs were a couple of thousand feet down on both sides of the bridge which made the view breathtaking. My mother had the idea of driving to Hell's Backbone but the cliffs turned out to be almost too much for her. The drive just made my mother stressed because she was worried that we would fall deep into the canyon.
The people that went were: Amber, Joe and their children, Me and Kristie, and Brent and Connie.
Widget "About Author" is hidden because there is no defined widget param "user_field".
No feedback yet