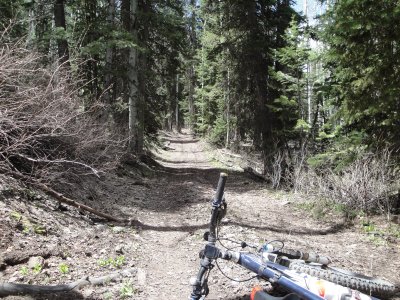 For my Memorial Day activity I chose to do a big long ride. The plan was to go on the trail from Providence Canyon to Millville Canyon by way of the trail that follows the contour of the mountain. I last rode the contour trail three years ago in October. I had since forgotten how technical the trail was to do, and to make sure I don't forget how technical the trail was I feel that I must describe the situation of the trail.
The contour trail is full of extremely short fast climbs and very fast descents. The situation is the same on both the Providence side and the Millville side of the trail. Not only that, but I almost broke a spoke when a stick went into the wheel. I just so happened to luck out today because the hike out of there would have taken a very long time. On the Millville side I was surfing with my rear wheel due to the extreme slope. When I finally dropped onto the rode in Millville Canyon I was much lower on the rode than I though I would be and I had to ride up a significant amount of 30% percent grade. I survived the trail and proceeded to drop through Leatham Hollow.
Leatham Hollow is just as bad as it has always been. There are really nasty rocks on the lower mile of the trail and that hasn't changed in 4 years. At the bottom of Leatham Hollow there was a rendevous being held. I didn't pay much attention to the rendevous and headed towards Richards Hollow as quickly as I could as I was running a little behind on time.
The bottom 1.5 miles of Richard's Hollow is steep and a good climb on the bike. Once I was past the water fall the trail mellowed out and was a nice easy grade for riding up. The next major climb was at the last half mile of trail which was steady but doable on tired legs. I was not wasting time and headed towards Card Canyon West. Card Canyon West was running my brakes hot and even though I have Shimano XT brakes with ice tech the brake fluid still heated up and changed the position of engagement of the brake lever.
I was quite happy when I reached the bottom of Card Canyon and turned left to ride down Logan Canyon. That meant that I only had about a 45 minutes to ride until I arrived home! At Third Dam I turned off of the rode and back onto trail until First Dam. I was very glad to be back home because my butt couldn't hardly stand another minute on the saddle.
Least of all here is the ride details from the Garmin. The ride included 43 miles of peddling, and about 7,500 feet of elevation gain.
No feedback yet