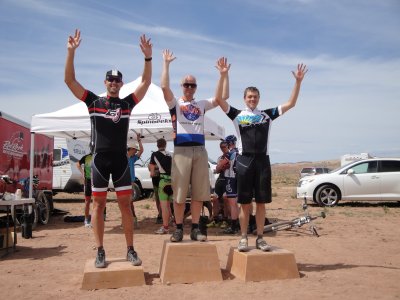 Me and Kristie had a great time at the Cactus Hugger race that was held in St. George, UT. The sports class race was 12 miles long with each lap being six miles. I had a time of about 1:05:25 according to the GPS and an unofficial time of about 1:15. Kristie did good with a time of about 1:55 which was a pretty good time for the womens sports class. During the race many people got pinch flats by running tire pressures too low. Many of the fastest riders got a DNF due to low tire pressures and rough rocks. I however chose to run a bit higher pressure in my tire and kept the shocks in the best pressures and dampener air pressures. I did try out the new Chain-L lube that I ordered a week ago. The Chain-L lube was much better than the Dumonde Tech. During the race I lost my water bottle that was full of my energy drink which I call honey-milk. Kristie calls the drink honey-butter. After the race and the awards ceremony we turned on the heat for the griddle and cooked some marinated chicken breasts. The chicken breasts were used in some nice sandwiches. We also ate a pasta salad with the chicken sandwiches. Now I did discover that the asthma was still not under control because as soon as I started I got an attack. 
Widget "About Author" is hidden because there is no defined widget param "user_field".

This entry was posted by
Brian
and filed under
Announcements
.
No feedback yet